Welcome to ShulCloud – New Synagogue Management System for FVJC-ES 
Friends, 
We are excited to let you know about an upcoming change to the way we manage our membership data and financial transactions at FVJC. 
Following a careful review of our current databases and financial systems, we decided to start using a synagogue management software tool called ShulCloud; a tool designed specifically for synagogues. Using ShulCloud will vastly improve the way we securely manage all of our synagogue membership information, including communications, calendar, billing and dues payments, payroll for our staff and teachers, donations, and yahrzeits. 
ShulCloud will enable us to bring our finances and accounting in-house, so we will no longer require the services of White & Katzman. Effective with your membership renewal statements in June, all notifications will come directly from FVJC, and all payments will be made directly to FVJC. 
With ShulCloud, you will now be able to see your dues statements and donation summaries in one location at the press of a button. You will be able to update and control your personal information easily in the user-friendly portal. 
Look for more information in the coming weeks about our transition to ShulCloud and how to access and use it. For those of you who prefer paper statements, that option will still be available to you. 
We look forward to bringing this new technology and capabilities to you, our FVJC family. Please see links below for instructions and access to portal.
Loel Goldblatt, First Vice President
Paul Honig, Treasurer 
To learn to use the new ShulCloud membership portal, click the image below: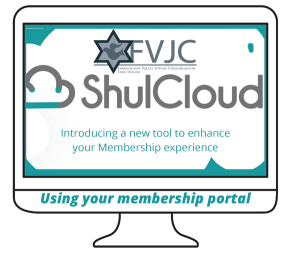 Once you have read the pdf above,
GO TO SHULCLOUD NOW to login.