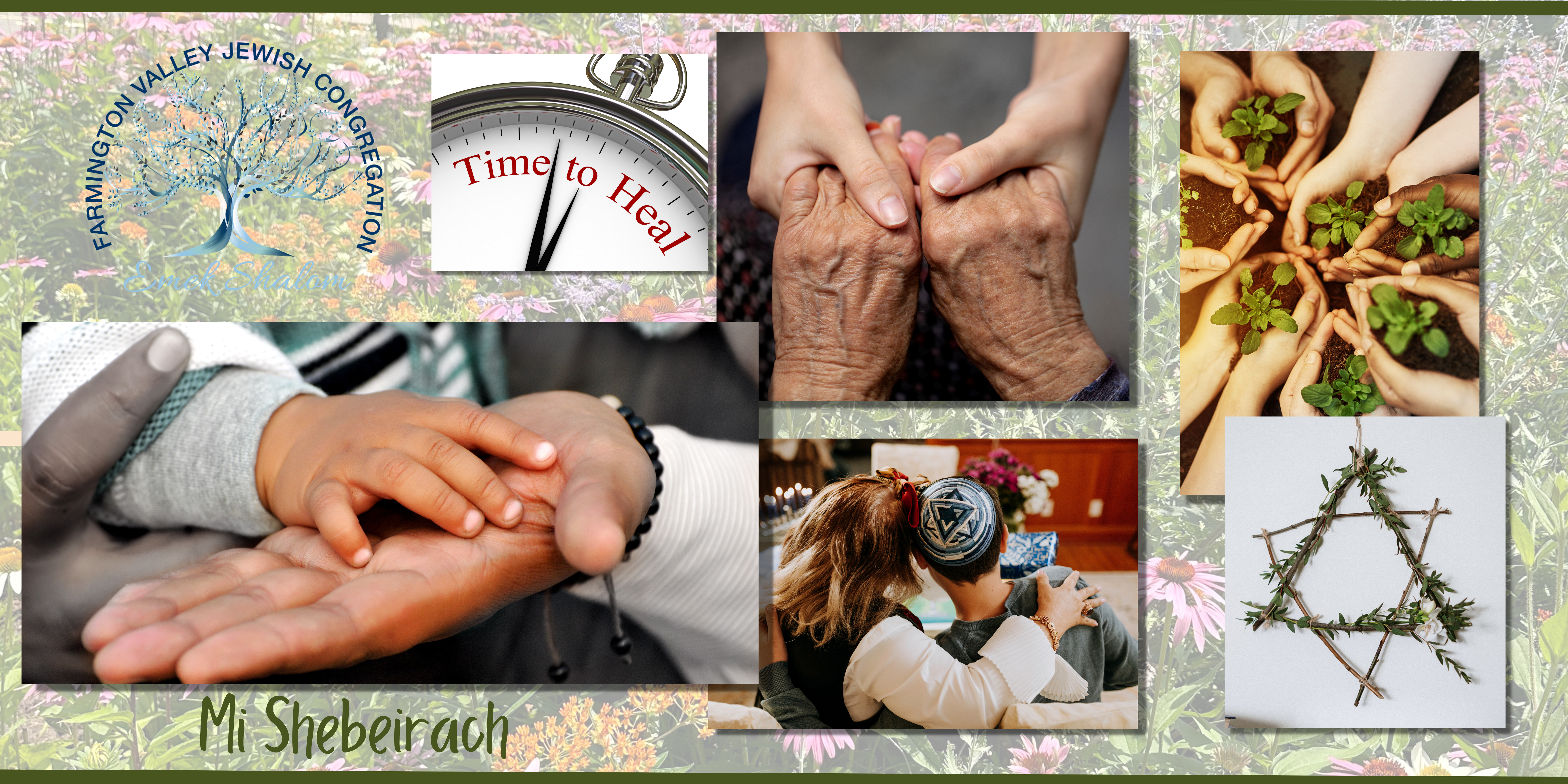 We invite you to send us the name(s) of loved ones who are facing the challenge of illness, that we may support them, and you, by inclusion in our communal Mi Shebeirach prayers.
The Mi Shebeirach prayer is one of the central Jewish prayers for those who are facing the challenge of illness. The pray includes pleas for both physical and spiritual healing within the community of others facing illness. Traditionally, the Mi Shebeirach is said in synagogue when the Torah is read. In modern times, the Mi Shebeirach is often said by professional health caregivers, patients, and loved ones at various times during treatment and recovery from illness of all sorts.
These comforting words can be said on behalf of those who are ill. Whether friends or loved ones are struggling with physical, emotional or spiritual challenges, this prayer speaks to our desire for their healing.
HEBREW TEXT:
The most common way to recite Mi Shebeirach is the one below. Written by musician Debbie Friedman, her words bring great comfort to all who hear them.
Mi shebeirach avoteinu
M'kor hab'racha l'imoteinu
May the source of strength,
Who blessed the ones before us,
Help us find the courage to make our lives a blessing,
and let us say, Amen.
Mi shebeirach imoteinu
M'kor habrachah l'avoteinu
Bless those in need of healing with r'fuah sh'leimah,
The renewal of body, the renewal of spirit,
And let us say, Amen
This is the translation of the traditional Mi Shebeirach:
May the One who blessed our ancestors — Patriarchs Abraham, Isaac, and Jacob,
Matriarchs Sarah, Rebecca, Rachel, and Leah — bless and heal the one who is ill: May the Holy Blessed One overflow with compassion upon him/her,
to restore him/her,
to heal him/her,
to strengthen him/her,
to enliven him/her.
The One will send him/her, speedily, a complete healing.
Healing of the soul and healing of the body
along with the ill,
among the people of Israel and all humankind,
soon,
speedily,
without delay,
Amen!
SOURCE
From Mishkan HaNefesh for Youth, copyright © 2018 by the Central Conference of American Rabbis. Used by permission of Central Conference of American Rabbis. All rights reserved. See more at the CCAR Press website.