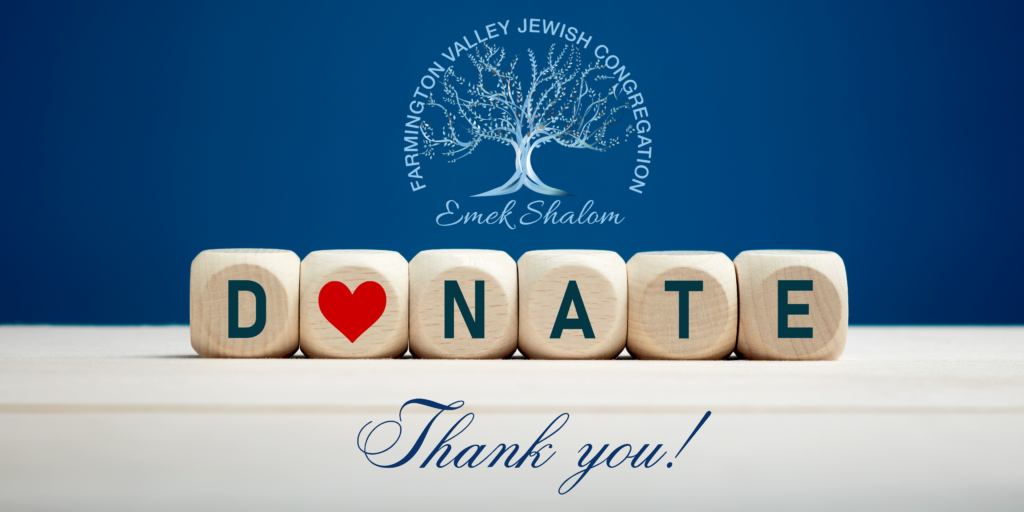 To donate online, please click HERE.
When you choose to donate to our congregation, you are making a difference in the lives of our community members. Your contribution allows us to continue providing vital services and programs that enhance the spiritual, educational, and social well-being of our members.
Whether you choose to donate in honor of a loved one, celebrate a milestone, or plan a legacy gift, your contribution will have a lasting impact. It will help us maintain our beautiful synagogue, support our educational initiatives, provide assistance to those in need, and foster a strong and vibrant Jewish community.
We are honored that you have chosen Farmington Valley Jewish Congregation-Emek Shalom as the recipient of your kind donation. Your support helps us fulfill our mission and create a welcoming and inclusive environment for all.
To make a donation today, please visit our donation portal or send a check to our office.
To donate by mail, please use the printable donation form (print form here.) and send to:
FVJC-ES, 55 Bushy Hill Rd, Simsbury, CT 06070
Thank you again for considering donating to Farmington Valley Jewish Congregation-Emek Shalom. Your support is truly invaluable, and we are grateful for your commitment to our community.