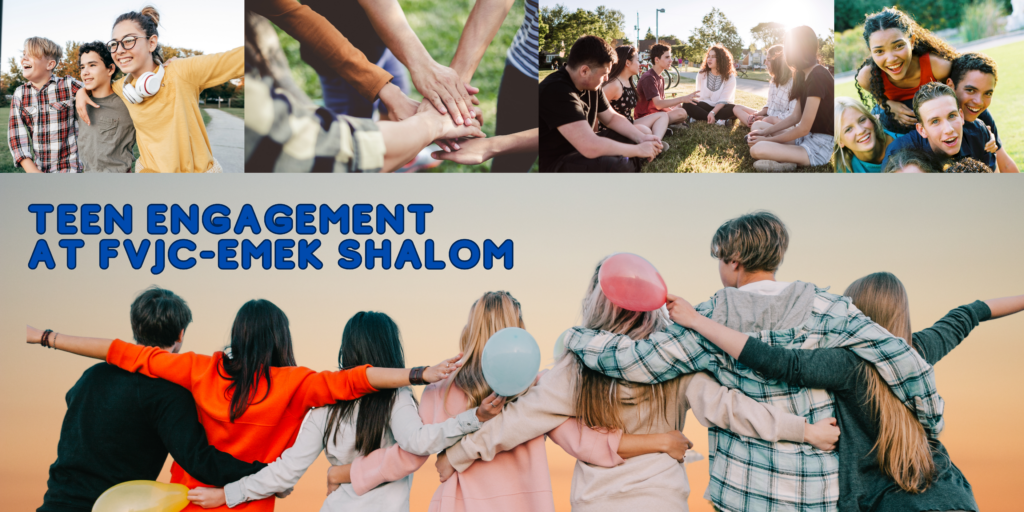 Calling all FVJC-Emek Shalom Teens! You are invited to join our dynamic community. We have two amazing programs for our teen members (Grades 8-12) that work together to build connections and foster deep ties to Jewish life and values. Our programs focus on creating a fun and engaging environment where teens can learn, grow, and engage with their peers and the community. Register today to be a part of our vibrant and inclusive community and join us on our journey of discovery and learning.
JTCONNECT – PUT JEWISH VALUES TO ACTION!
GRADES 8-12: Monthly on Sunday morning teens explore current social justice issues from a Jewish lens and put their passion into action by working directly with people and communities in need. By working directly with people or communities in need, we will actively take part in the mitzvah of Tikkun Olam – Repairing the World.
Click here to register today!
ATZMEINU – DISCOVERING OURSELVES!
Grades 9-12: Atzmeinu or "Discovering Ourselves" is our new FVJC – Emek Shalom teen engagement program.  It will be co-taught by both Rabbi Bekah and Rabbi Gavi and is focused on helping our teens as they navigate the sometimes-fraught process of preparing for adulthood.  This program is open to all high school students and will focus on issues around Jewish identity, how to use our Jewish voices to effect change, and preparing for life post-high school.  We're very excited about this new program.  Be sure to sign up your teens today!
Be a part of a FVJC-Emek Shalom Jewish teen community! Every session we will eat together as a group and have time socialize!
Click here to register today!